Mx S supported us with 1 ticket

Ms K supported us with 1 ticket

Ms W supported us with 1 ticket

Ms N supported us with 3 tickets

Ms M supported us with 3 tickets

Ms J supported us with 2 tickets
---
5d 14h 57m

04 February 2023
---
Winner! Mr J (SALFORD)

Won £25.00!

Winner! Mr L (BRIGHOUSE)

Won 3 extra tickets!

Winner! Mx A (BARNSLEY)

Won 3 extra tickets!

Winner! Mx R (KEIGHLEY)

Won 3 extra tickets!

Winner! Mr C (BANSTEAD)

Won 3 extra tickets!

Winner! Mr S (MANCHESTER)

Won 3 extra tickets!

Winner! Mx S (MANCHESTER)

Won 3 extra tickets!

Winner! Mr K (ACCRINGTON)

Won 3 extra tickets!

Winner! Mr T (London)

Won 3 extra tickets!
About us
Together Against Cancer provides a much loved and valued service for people with cancer.
Together Against Cancer is a charity operating from their Leicester based 'Education and Wellness Centre'. Their aim is to meet the complex needs of a cancer patient with practical, emotional, and physical support. They help people who have been diagnosed with cancer and those living with the traumatic aftereffects. They help anyone with a cancer diagnosis regardless of wealth, health, or diversity, including supporting their carers, and loved ones.
A message from 'Together Against Cancer':
"We desperately need your help so we can expand our vital services. Until recently we have only delivered our services to adults, however sadly, due to the recent growing demand we have lowered our age group to supporting people with cancer aged 13 years and over. We now need to produce projects around young people with cancer and deliver programmes of real help. We urgently need family therapy for parents, siblings and grandparents of the young person diagnosed with cancer. The whole family suffers during this time, questions want to be asked and no one wants to ask them. We will supply a safe and welcoming place for families to come together to help and support each other. Family support comes in many forms using different activities such as making meals together, learning to communicate, confirming support and commitment, can make a huge difference to everyone involved".
Together Against Cancer has an online Healing Hub' which needs funding to grow and maintain. The online programme supports people and families who are unable to visit the 'Wellness Centre'. The online 'Healing Hub' is available for free and was born from patients urgently needing to connect to Together Against Cancer's vital services during the pandemic. If you have been affected by cancer please connect with Together Against Cancer: www.togetheragainstcancer.org.uk
Thank you for your support and good luck!
Yours sincerely,
Julia Krupska
Email: [email protected]
Help us share our cause on social media
How the lottery works
That's right, unlike many other lotteries, our lottery tickets are only £1 per week.
30% to your chosen cause and 30% to other causes in affiliated Trade Unions.
Match all 6 numbers and you win the JACKPOT!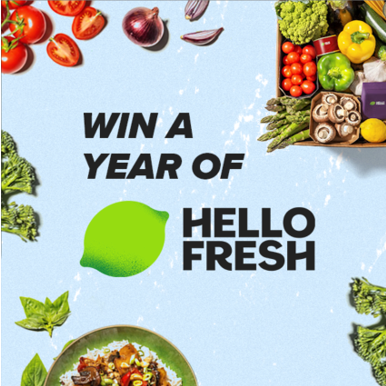 Win a whole YEAR of HelloFresh
It's New Year, and we're all making resolutions. Whether you want to save some money on your weekly shop, eat fresh and healthy, or just get the family together around the dinner table, this February 25th we've got the perfect prize to help you keep those New Year's resolutions going all year long: a whole YEAR of HelloFresh! These fantastic boxes deliver fresh high-quality ingredients direct to your door – with everything you need to create delicious dinners from scratch. Don't miss out - get your tickets today!