Ms T supported us with 2 tickets

Mx W supported us with 1 ticket

Mx R supported us with 1 ticket

Mr R supported us with 1 ticket
---
0d 8h 33m

01 April 2023
---
Winner! Mr H (CHORLEY)

Won 3 extra tickets!

Winner! Ms B (BIRMINGHAM)

Won 3 extra tickets!

Winner! Mr K (ACCRINGTON)

Won 3 extra tickets!

Winner! Ms L (LONDON)

Won 3 extra tickets!

Winner! Ms T (IVYBRIDGE)

Won 3 extra tickets!

Winner! Ms R (BURY)

Won 3 extra tickets!

Winner! Ms B (BIRMINGHAM)

Won 3 extra tickets!
About us
Townsend Theatre Productions are a professional community interest company (CIC) with a reputation for producing imaginative, entertaining socially relevant live theatre and community education of the highest quality that reaches venues of all kinds, especially for new audiences in areas of low cultural engagement.
Their past productions have included the stories of the Tolpuddle Martyrs, The Shrewsbury Pickets, Jayaben Desai and the Grunwick Strike, the Spanish Civil War, The Chainmakers' fight for a minimum wage, versions of 'The Ragged Trousered Philanthropists' and the Clydeside shipbuilders' fight for the Right to Work.
Their work features powerful narratives of real-life events connected to working class social history and the trade and labour movement, celebrating overlooked inspirational figures that strived for social change, as well as detailing contemporary issues and challenges that face working people now.
They specifically aim to reach audiences that don't regularly participate or engage with the arts, and perform in community venues - community centres, arts centres, schools, colleges, residential homes, libraries - aiming to make their work as accessible as possible to all audiences. Recently, as a consequence of the pandemic, the company have created an outdoor touring venue to continue to create 'safe' touring theatre work. The venue is called, 'The Talking Horse', and it comprises a converted horse-box front-of-house and a large tent with stage lights and sound.
We fundraise to maintain all the components of creating theatre work that can be toured across the UK; funds for maintaining touring vehicles, lighting and sound equipment, building sets, sustaining marketing, filming, recruiting writers, actors and artists, building contacts and associations with relevant organisations and venues, as well as links with communities and maintaining the company's administration.
Please support us by playing Union Lotto.
Help us share our cause on social media
How the lottery works
That's right, unlike many other lotteries, our lottery tickets are only £1 per week.
30% to your chosen cause and 30% to other causes in affiliated Trade Unions.
Match all 6 numbers and you win the JACKPOT!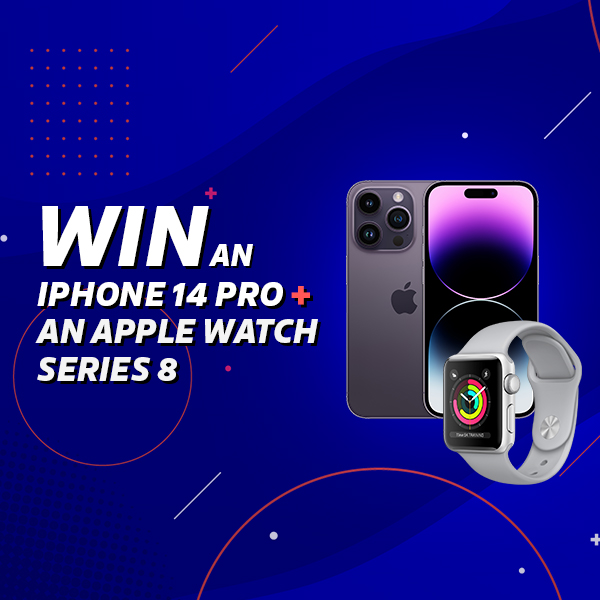 Win an iPhone 14 Pro and an Apple Watch Series 8
On Saturday 29th April you could win this incredible Apple bundle - a top-of-line iPhone 14 Pro, and an Apple Watch Series 8! With a massive 48-megapixel camera, a crystal clear 6.1" display, and 128GB of storage – along with all the speed and processing power you'd expect, this really is the upgrade you've been waiting for! The Series 8 watch is fantastic for fitness, or just to keep you connected on the move – this combo is something you DON'T want to miss out on! Get your tickets today!