Mr K supported us with 3 tickets

Mr K supported us with 3 tickets

Mr K supported us with 2 tickets

Mr K supported us with 5 tickets

Mr K supported us with 3 tickets

Mr F supported us with 5 tickets
---
5d 14h 8m

04 February 2023
---
Winner! Mr J (SALFORD)

Won £25.00!

Winner! Mr L (BRIGHOUSE)

Won 3 extra tickets!

Winner! Mx A (BARNSLEY)

Won 3 extra tickets!

Winner! Mx R (KEIGHLEY)

Won 3 extra tickets!

Winner! Mr C (BANSTEAD)

Won 3 extra tickets!

Winner! Mr S (MANCHESTER)

Won 3 extra tickets!

Winner! Mx S (MANCHESTER)

Won 3 extra tickets!

Winner! Mr K (ACCRINGTON)

Won 3 extra tickets!

Winner! Mr T (London)

Won 3 extra tickets!
About us
St. Antony's Centre has for over 40 years provided a highly valued service for the communities we serve. We support people seeking employment through high quality training in Maths, English and Information & Communications Skills.
We develop dynamic partnerships with Employers, Unions and the community to upskill employees through theCommunity Based Reach Out Project.
We respond daily to local community needs across the North West and in Northern Ireland through a network of local Adult, Community Training Centre and our Welfare Advice service. This has enabled thousands of people to access the correct benefits and to reclaim entitlements enabling them to live fuller lives and to reduce the impact of poverty, exclusion and isolation. Training and support courses from basis to advance skills are also available.
We need your help at this important time so we can continue to respond and to expand our services. Increased economic pressures are taking their toll on more people, many more are seeking our support and help to gain control over their lives. Our aim is to raise £1,500 over the next year through the lottery.
Our simple aim is to enable people to flourish and live life to the full.
I invite you to help us Raise £1,500 by signing up today to this Good Causes-Community Lottery a win- win for our clients and a novel way for you to show your support for those in need. You may also win one of the weekly pizes or the special prizes which have included £1,000 Gift or holiday vouchers !
Thank you so much, a small commitment now can help us to make a real difference in people lives and to access high quality Information, Advice , Education and welfare. Unlike many other lotto schemes a high proportion of your weekly stake goes direct to the the good cause. Its a Win, win we so we wish you a great 2023, thanks for your support.
Kevin Flanagan
Director
Help us share our cause on social media
How the lottery works
That's right, unlike many other lotteries, our lottery tickets are only £1 per week.
30% to your chosen cause and 30% to other causes in affiliated Trade Unions.
Match all 6 numbers and you win the JACKPOT!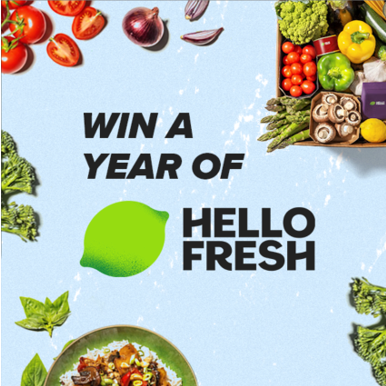 Win a whole YEAR of HelloFresh
It's New Year, and we're all making resolutions. Whether you want to save some money on your weekly shop, eat fresh and healthy, or just get the family together around the dinner table, this February 25th we've got the perfect prize to help you keep those New Year's resolutions going all year long: a whole YEAR of HelloFresh! These fantastic boxes deliver fresh high-quality ingredients direct to your door – with everything you need to create delicious dinners from scratch. Don't miss out - get your tickets today!